QUANTIC NANOTECH

DIGITAL HEALTH
OSTEOARTHRITIS MULTIMODAL
THERAPY IOT GLOVE SYSTEM
ADAPTABLE EASY TO WEAR
Made with hypoallergenic fiber materials, with side zippers to facilitate the insertion and removal of the treated hand, it also incorporates a fabric puller on the back for a better fit if necessary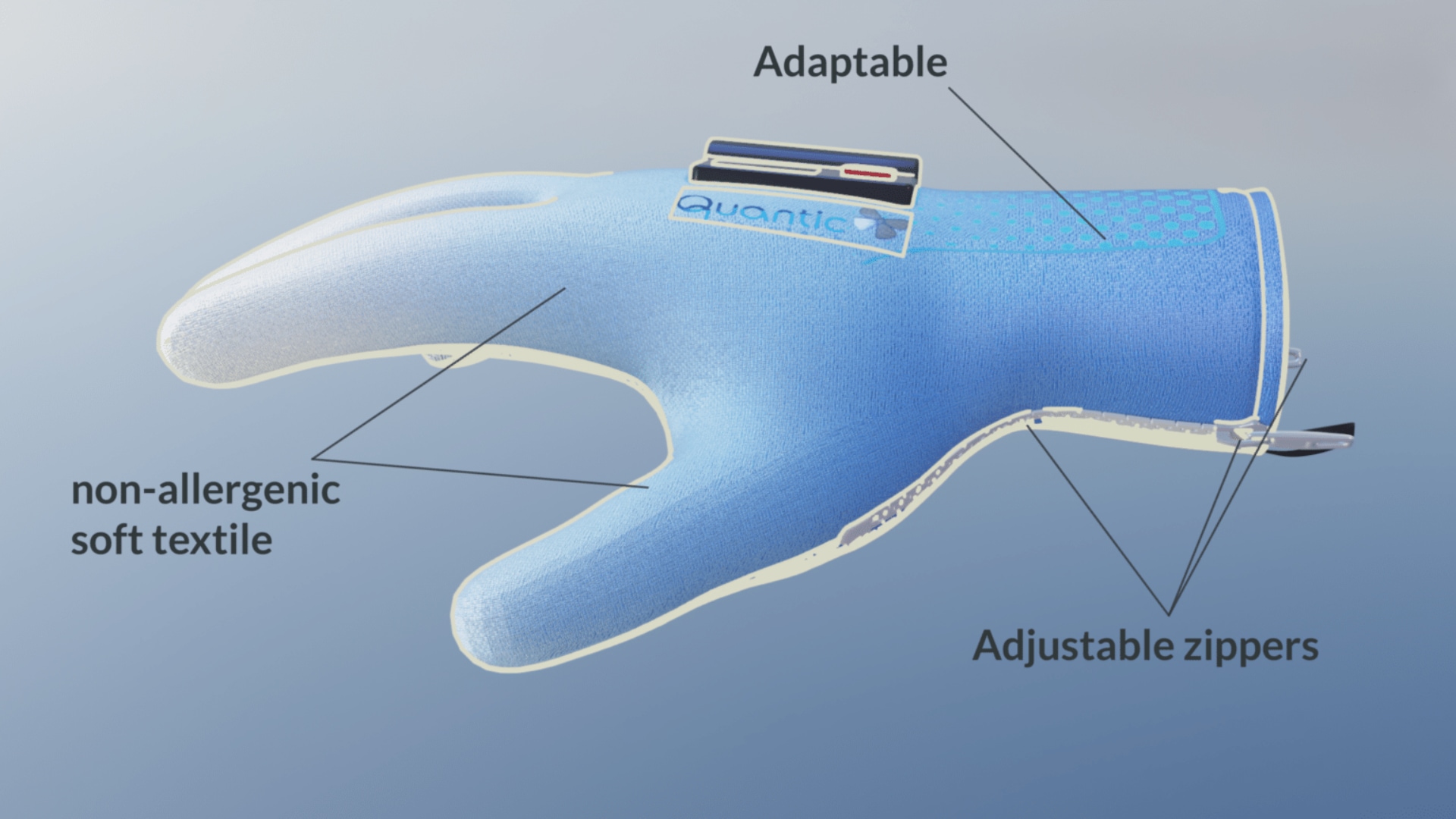 HOME USE 
Comfortable to wear offers fully customizable function combination use, it allows treatment at the clinic or at home, in 15-30 minute sessions.The predefined therapy programs can be selected at the push of a button. It is powered by lithium ion rechargeable batteries. When fully charged can last for1-2 weeks weeks of standard use. The recharging process uses magnetic snap-in connectors.
INFO DISPLAY
Shows realtime information of the state of the treatment program, the power indication with dry heat temperature indcation in degrees ª Celsius, the level of battery, vibration state, massage function and  and the activation function  performed indicated on each finger   
CONTROL DISPLAY
The display shows indications in realtime about the microsensors acting on the hands controlling all the therapy functions

Complete Treatment System
Remotely controlled by Physician
The QUANTIC NANOTECH OA system is fully controlled and clinically supervised by the specialist MD on a HIPAA certified platform  hosted on the AWS (Amazon Web Services) platform to guarantee that all treatments data are 100% safely protected, only the user has access to its own data, with your doctor can manage and supervise your personalized prescription treatment that can be updated in real time by controlling the functions of the glove and interactive messages through the internet app. The QUANTIC NANOTECH system has been designed for high scalability and 99.99%  availability hosted on AWS Amazon cloud servers. The setting of the treatment programs can be selected by the patient or remotely by the doctor, the status and all functions of the QUANTIC gloves are automatically recorded in the cloud app. The glove system is HIPAA (Health Insurance Portability and Accountability Act) of 1996 certified which protects the privacy, security and integrity of all data.
SMA
A shape-memory alloy (SMA) is a metallic element with very special mechanical properties, as it can be deformed while cold but returns to its pre-deformed ("memory") shape when it is heated.
The design of the glove takes advantage of this unique feature, among other technologies, to treat both passive and actively the mobilization of the joints.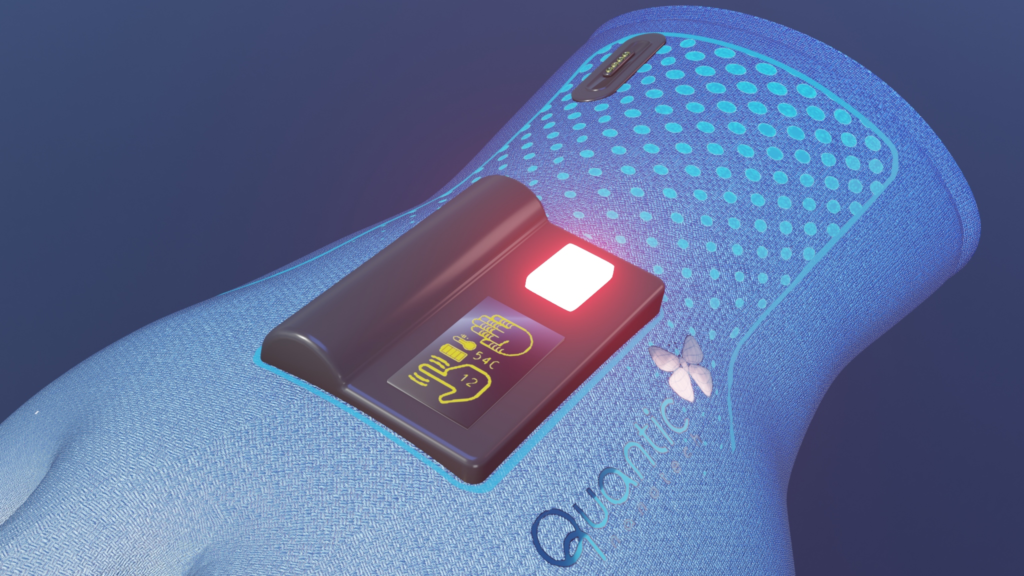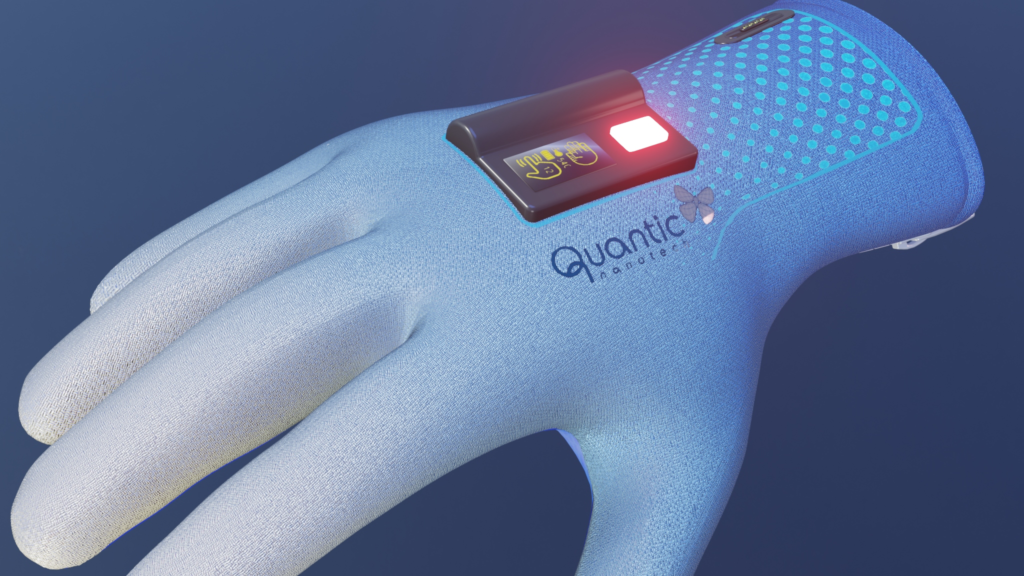 Proven Therapies treatment at home
QNANO GLOVE incorporates all well known Physical therapies & treatments of proven efficacy in hand osteoarthritis plus some more
extra with the advantage that all can all be automated & applied simultaneously.The glove integrates several programs controlled by a CPU that monitors all sensors electronically  to provide Dry heat, vibration, massage, passive stretching, pulsation, straigheting function, etc. The function programs are activated automatically simply at the press of a button
Use of Topical Medication
ONANO GLOVE can be used also in combination with topical medications in disposable bio natural fibre OTC compatible glove units for the administration of topical medications such as anti-inflammatory non-steroidal drugs (NSAIDs), liniments and median neuromodulators (capsaicin) using disposable medical dispensers in the articular areas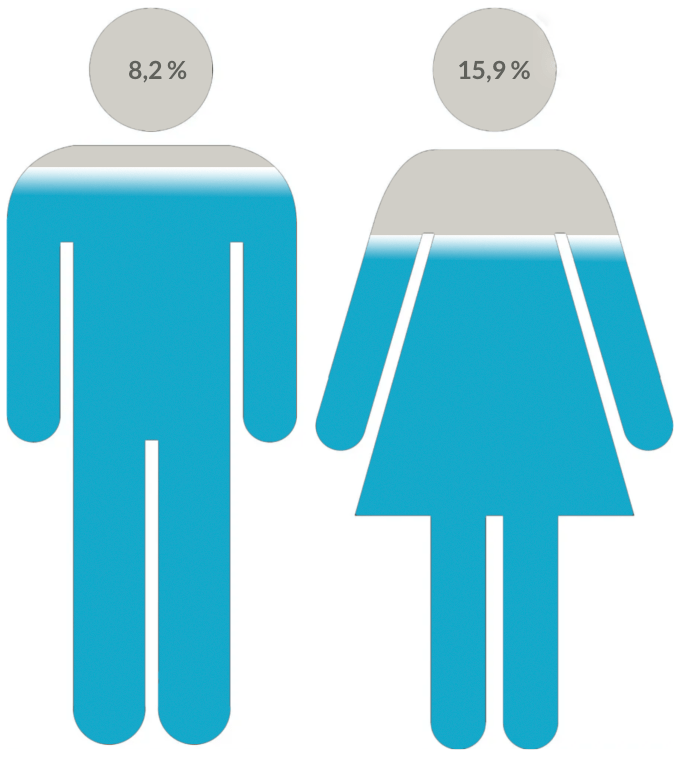 Prevalence
Hand osteoarthritis is a very common process. For example in medical papers like the "Framingham osteoarthritis study", which includes two cohorts of people, from 28 to 92 years old, the frequency of osteoarthritis of the hands was around 50% of the cases, almost 16% of women and more than 8% of men had symptoms of pain or stiffness. According to WHO (World Health Organization) the affected population worldwide estimates are that 9.6% of men and 18.0% of women aged over 60 years suffer symptomatic osteoarthritis.
Source: Dr. Juan Mulero Mendoza RHEUMATOLOGIST TEAM LEADER – Hospital Ruber Internacional- Masó 38 – 28034 Mirasierra – Madrid SPAIN
https://www.who.int/chp/topics/rheumatic/en/
According to https://www.artrhitis.org only in 2013, direct and indirect health spending due to sick leave for this type of ailments was USD $304 Billion Dollars, equivalent to 1% of the US GDP.
QUANTIC NANOTECH S.L.
Vidrieros, 9
Parque Empresarial Prado del Espino
Boadilla del Monte 28660 MADRID, SPAIN
+34 916326130